​On October 20, 2020, the Office for Social Responsibility of the China National Textile and Apparel Council (CNTAC), Ellen MacArthur Foundation and Lenzing Group jointly released the Make Fashion Circular: Outlook for a New Textile Economy in China report. From the perspective of the industry's entire supply chain, the report for the first time presents the current situation of China's textile and apparel industry, combing through the good practices and achievements of the industry's circular development. Furthermore, the report gave prospects for the vision and opportunities for industrial circular economy transition based on international circular fashion trends.
Driven by the increasing call for sustainable fashion and the urgent need for new development opportunities, the fashion industry is in the process of rethinking how it manufactures, consumes and disposes of textiles and apparel. Circular fashion has outlined a vision different from the traditional linear economy model for the global fashion industry, that is to reshape a more responsible and resilient industry according to the principles of a circular economy. This means innovating in terms of material choices and design, maximizing the value of the fiber and textile during production, and reducing the consumption of resources and waste.
China has been promoting the circular economy since 2005. Under the guidance of China's circular development strategy, the circular economy transition of China's textile and apparel industry has made gradual progress and found its own pace. The optimization of raw material supply, the improvement of resource efficiency in production and recycling of textile waste are the three main areas of circular economy practices in the industry.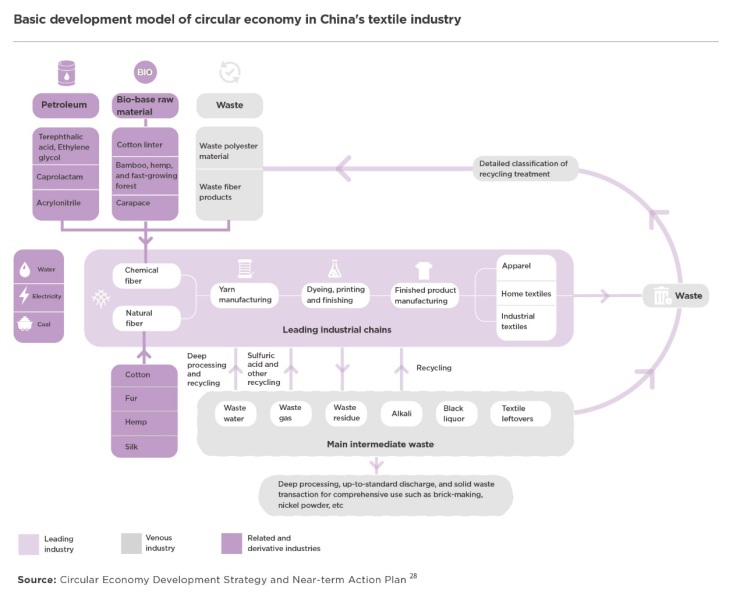 The proportion of recycled fiber processing in China has increased from 9.6% in 2010 to 11.3% in 2015, and its output exceeded 7 million tons in 2018. Several bio-based chemical fibers have achieved industrial development, with a range of applications in apparel, home textiles, health and medical products. Levels of energy and material consumption, and resource recycling in production have been significantly improved. A large number of new technologies have been pioneered and subsequently widely adopted. The setting up of an industrial chain of collection, sorting and the comprehensive utilization of textile waste has also been largely completed. "Zero Discarding of Old Clothes" has been carried out, and the Extended Producer Responsibility system has also been introduced at company level. Roughly estimated, China's utilization proportion of textile waste recycled as materials reached 17% in 2018.
At the same time, there are emerging trends in design and in the field of consumption that are favourable to industrial circular development. The practice of green design is gradually increasing; some consumers have begun to turn to green textile and clothing consumption, embracing the concept of sustainable consumption. In 2019, the Office for Social Responsibility of CNTAC conducted a random survey into consumers' awareness and practice of sustainable textile and apparel consumption with a total of 5002 Chinese consumers. More than 67% of consumers pay attention to sustainable products, and about 26% of consumers not only pay attention to sustainable products but also will purchase them intentionally. Consumers' awareness of second-hand clothes and clothes rental are also rising, new business models such as clothes rental, sharing and resale are emerging.
However, as a whole, due to the large range of product categories, a long industrial processing chain, and large volumes of China's textile and apparel industry, there is still a lot of room for improvement in terms of the substitution scale of non-renewable raw materials, the resource utilization level in production, the recycling and reuse of textile waste, the circular design, and green consumption. With increasing pressure on both resources and the environment, it is imperative to accelerate the circular economy transformation of the industry and expand the scope of practices.
To accelerate this transition, the industry needs to unify the vision and goals supported by targeted measures from different facets such as technology, policy, market, and awareness, and to clarify the main responsibilities of all stakeholders and promote collaboration between the upstream and downstream. The report puts forward the vision of China's new textile economy, as well as five goals to address raw materials, design, production, consumption and after use, and carry out systematic transformation throughout the industrial chain. The goals include:
Goal 1. Further optimize the raw material structure to reduce the consumption of non-renewable resources.
Goal 2. Turn to textile design based on the principle of a circular economy.
Goal 3. Further improve resource efficiency in production.
Goal 4. Innovate business models and expand green consumption.
Goal 5. Upgrade the quality and efficiency of textile waste recycling.
At the Sustainability & Circular Economy Session of the 2020 Annual Conference International Textile Manufacturers Federation (ITMF) on Oct 21, 2020, Yan Yan, Director of Office for Social Responsibility, China National Textile and Apparel Council delivered the key findings of the report. She addressed that: "The current COVID 19 Pandemic make people think about the relationship between development and nature. China now is accelerating the pace of building a green, circular and low-carbon textile and apparel industry and put more efforts in promoting dialogue and collaboration with global value chain for industry transition and upgrading, for the purpose of pushing the textile industry towards a more resilient and responsible future. This report for the first time systematically combed through the circular economy practices and achievements of the industry from 2005 to the present, and furthermore expounded in detail upon future opportunities for China's industry based on international practices and trends, providing beneficial solutions and references for the industry to explore circular economy transition. "
Francois Souchet, Lead, Make Fashion Circular initiative of the Ellen MacArthur Foundation:
"Circular fashion creates opportunities for the industry to resolve waste and pollution problems, and injects vigor to the industry's long-term development. In the circular fashion system, textiles and apparels are made of safe and renewable materials, and the service life of products is prolonged. Through reuse and remanufacturing, products can return to production and consumption ends after use. With momentum towards a circular fashion industry growing globally, the release of the Make Fashion Circular: Outlook for a New Textile Economy in China report is an exciting milestone event. It not only highlights that China's fashion industry can lay a solid foundation for global circular transformation, but also looks into the vision and goals for accelerated development of the industry in the future. "
Jian Hu, Senior Vice President, Lenzing Group (North Asia):
We understand that our sustainable goals can only be achieved if the whole value chain work together. So we are very happy to be involved in the report. Starting from a global perspective, the report sheds light on the circular economy transition of China's fashion industry, looks deep into its current status, challenges, and opportunities for circular fashion on the basis of numerous pieces of research as well as case studies and data analysis. It can also provide support and guidance to stakeholders systematically, so as to accelerate the industrial transformation.
China's textile and apparel industry plays an important role in the global fashion industry. Its transition to a circular textile and apparel industry is crucial to the future of global circular fashion and will have a profound impact on its course. On the one hand, China is the world's largest textile and apparel producer and exporter. In 2018, China's total fiber processing volume accounted for 50% of the world's total, and China's textile and apparel export volume accounted for 35% of the global total. On the other hand, China is also one of the largest textiles and apparel consumer markets in the world, and one of the top three markets for many well-known fashion brands and companies. The expanding new middle-class and improving consumer awareness will further unleash the potential of China's textile and apparel market and drive sustainable consumption.

A circular economy is an important way for China's textile and apparel industry to achieve high-quality development. In recent years, various uncertain factors have accelerated the difficulties and risks of economic recovery. And the outbreak of the COVID-19 Pandemic in early 2020 has impacted the economy particularly hard. The textile and apparel industry, which is highly internationalized, is facing serious challenges, and different stakeholders have been under pressure. In the new era of an increasingly complex environment, different stakeholders in China's textile and apparel industry, including government, enterprises, designers, associations and research institutions, as well as consumers, should be unified by the vision of circular development and embrace the global value chain, work together to strengthen cooperation in a larger and deeper scope, continue to look for new growth opportunities with the aim of building a more resilient industrial value chain.
Report download link:
About Office for Social Responsibility, China National Textile and Apparel Council
China National Textile and Apparel Council (hereinafter, "CNTAC"), formerly known as the Ministry of Textile Industry of the People's Republic of China, is a national organization for China's textile and apparel industry. Established in 2005, Office for Social Responsibility which is directly under the administration of CNTAC, has been the first national permanent establishment dedicated to social responsibility. It aims to develop a public governance platform for the industry to deliver its social responsibility and play a leading role in the sustainable development of the industry.
In 2015, Office for Social Responsibility of CNTAC set a vision of Responsible Development Goals 2025 for the textile and apparel industry in China, covering 12 indicators in three dimensions of social, environmental and economic. It works with the government, institutions and relevant enterprises to carry out stewardship innovation through the industry's value chain, including such areas as environmentally management of chemicals, carbon emission and climate change, water resource management and systematic circular transformation, so as to enhance the industry's capacity for and awareness of sustainable development. It also established the Textile Sustainable
Manufacturing Coalition to accelerate the innovation and collaboration.
More information, please visit: www.sdgstewardship.org/circular
About Ellen MacArthur Foundation
The Ellen MacArthur Foundation is a UK-based charity, committed to the creation of a circular economy that tackles some of the biggest challenges of our time, such waste, pollution and climate change. In a circular economy nothing becomes waste and everything has value, creating benefits for society, the environment and the economy. The Foundation collaborates with its Strategic Partners (BlackRock, Danone, DS Smith, Google, H&M Group, Intesa Sanpaolo, IKEA, Philips, Renault, SC Johnson, Solvay, Unilever, The Eric and Wendy Schmidt Fund for Strategic Innovation, SUN, MAVA, and the wider network of businesses; governments, institutions, and cities; universities; and emerging innovators, to drive collaboration, explore opportunities, and to develop circular business initiatives.
In May 2017, Make Fashion Circular was originally launched as the Circular Fibres Initiative, at the Copenhagen Fashion Summit. Make Fashion Circular drives collaboration between industry leaders and other key stakeholders to create a textiles economy fit for the 21st century. Its ambition is to ensure clothes are made from safe and renewable materials, new business models increase their use, and old clothes are turned into new. This new textiles economy would benefit business, society, and the environment. Make Fashion Circular brings together industry leaders including Burberry, Gap Inc., H&M Group, HSBC, Inditex, PVH and Stella McCartney as Core Partners.
For further information: www.ellenmacarthurfoundation.org | @circulareconomy
About Lenzing Group:
Established in Austria in 1938, Lenzing Group is one of the world's leading manufacturers of wood pulp and cellulose fibers. It has expanded its production to major markets across the globe and operates an extensive sales and market network around the world.
Lenzing Group's products include dissolving wood pulp, cellulose fibers made from dissolving wood pulp, biobased energy, biorefinery products and co-products. Its product brands include: TENCEL™, REFIBRA™, LENZING™, ECOVERO™ and VEOCEL™.
Lenzing Group adopts a business model that goes beyond any traditional fiber manufacturer. Working with its clients and partners, Lenzing Group is developing innovative products along the value chain and creating added-value for consumers. Lenzing Group is committed to the efficient use and processing of raw materials, and providing solutions to navigate the textile industry towards a closed- loop economy.
More information, please visit: www.lenzing.com/